Browsing articles in "Blog"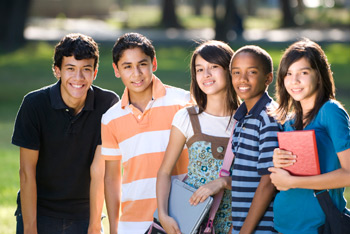 Grandview Corners Dental is extremely proud to be the chosen dental solution for families in the Surrey community. With world-class expertise, dental technology and equipment, it is easy to see why our patients keep coming back.
We strongly believe in participating in the local community, which is why we are taking a stand in supporting local teachers and educators.
Our latest program, Smile for Teachers  has been created to recognize and appreciate local teachers and educational establishments. The program offers incentives to encourage dental appointments and to promote oral health education through smile stories.
Learn more by visiting our contest entry page at www.grandviewcornersdental.com/smile
Cosmetic dentistry has evolved rapidly over the last decade.   Makeover shows such as Ten Years Younger  and Style by Jury  have highlighted the amazing strides modern dentistry has made in the realm of smile design.
The exciting news is that you don't have to be chosen as a contestant on a makeover show to experience the outstanding benefits of advanced cosmetic dentistry!   In fact, there are smile design experts located in your very own Surrey, BC neighborhood.
Our caring team at Grandview Corners Dental & Wellness Centre has the specialized training needed to take your unique facial features into consideration and give you the gorgeous, natural-looking smile you've always wanted.
A beautiful smile is the trademark of a happy, successful, and confident person.   It can enhance your quality of life, empowering you with the self-esteem you need to fulfill your potential.   We love seeing our patients leave our office overjoyed by the new found confidence that comes along with a Grandview Corners Dental smile makeover.
When you come into our office for a cosmetic dentistry consultation, we take the time to create an individualized treatment plan which addresses all of your aesthetic needs.
Recent findings indicate that 99.7 percent of adults say an attractive smile is an important personal asset. Invest in your personal and professional success – contact us to book your smile consultation today!
Do you find you avoid smiling, or are embarrassed to show your teeth due to damage or severe discolouration? Do you wish you could have a Hollywood smile makeover that will give you the confidence to achieve your full potential?
If you answered yes, then Dental Veneers might be the right cosmetic dentistry solution for you!
Dental Veneers are extremely thin custom-shaped shells made of ceramic, porcelain or a composite material that can be bonded to your existing teeth to quickly and flawlessly eliminate imperfections. Veneers allow us to completely remodel the shape and style of your smile – we can brighten your teeth and cover discolorations, cracks, or uneven spacing in only a few appointments.
Our cosmetic dentistry experts have years of experience with Dental Veneers and the artistic ability to match your aspirations. At Grandview Corners Dental & Wellness Centre in Surrey, BC we'll take the time to discuss your needs and desires, and our artisan dentists will work with our expert dental labs to develop a set of custom Dental Veneers with the size, shape, and color that provide a natural look that complements your facial structure.
Patients receiving Dental Veneers will often tell us that they wished they had asked for them sooner – the burden of portraying unattractive defects or damage due to staining or injury is considerable and hard to put into words.   We understand, and are ready to give you the powerful lift and confidence boost that a beautiful natural smile brings.
Contact us today if you want to unlock your smile potential and think veneers might be the right cosmetic dentistry solution for you!
Summer is in full swing and it's wedding season! Are you a bride, groom, or a member of the wedding party?   Then chances are you are going to want to look incredible on that special day and nothing can complete that polished look like a sparkling white smile care of your experts at Grandview Corners Dental & Wellness Centre.
Many of the beverages we all enjoy like coffee, tea, and red wine as well as foods like strawberries and cherries stain your teeth over time and leave your smile appearing discoloured and lackluster.   Our professional in office teeth whitening solutions are the fastest, most effective way to brighten your smile in time for that upcoming wedding.
Whitening is the trendy new activity for members of the bridal party to do together along with the traditional manicures, hair, make up, and dress shopping! Everyone wants to make his or her smile pop  for the special day with healthy and natural radiance.
Is your son, daughter, brother or sister getting married and you want to look great in all the family photos that will be passed on for generations?
Grandview Corners Dental's professional in office whitening solutions can dramatically whiten your smile in less than an hour!
Most of us are receiving a handful of wedding invitations in the mail this time of year. When you see your old friends, colleagues and family members at that upcoming wedding reception we can help you make a terrific and lasting impression.
Contact us to book an appointment with one of our expert dentists and we'll give you the white bright smile that communicates confidence and success!
Summer days means lazy afternoons by the pool and busy evenings at sporting events, concerts or on the road traveling with the family. Concession stands and snack bars tempt us with a variety of sweets and sugar-filled soda and juices, so parents must create strategies that will protect your children's dental health and counteract tooth decay!
Here are five easy-to-follow summer tips that will help protect your child's teeth from decay:
Nothing beats H20. Bacteria are attracted to sugar and together they create an acid, which causes tooth decay and deterioration.  Water rinses your mouth of bacteria and acid in addition to increasing the formation of your saliva.
Be sure to read all labeling on food and beverages you are choosing for your family at the supermarket. Consider your family's usual selection of beverages… Are they full of sugar? Stay away from beverages loaded with sugar and acid.
A straw can save your child's smile. If your kids are going to drink a sugary beverage, using a straw can keep sugar away from their teeth. It's best to drink sugary beverages with a meal rather than permitting kids to sip on them throughout the day.  Acid penetrates tooth enamel – so follow up sugary beverages with water to rinse your mouth until brushing time!
Consider the length of your snack sessions. We all want to have a treat now and again – the key is moderation. If your children are sucking away on sour candy keys or chewing Swedish berries throughout the day, acid is given the opportunity to erode their teeth. Snacks that can be eaten in one session, like popcorn or baked chips are a better alternative – teeth are exposed to food for a shorter time, and these snacks encourage saliva production to rinse away the food particles.
Protect your kid's teeth with protein! Dietary Protein works remarkably well as a guard against acid, so feeding your kids nuts, cheese, and cold cut sandwiches is an excellent alternative to the unhealthy fast food choices your kids may make on their own. The same is true for fruits and vegetables that have high water content.  Apples, pears, and celery are excellent choices to help rinse bacteria from your mouth.
In addition to the above tips it's important to maintain oral health habits like daily brushing and flossing throughout your summer vacation.  It's easy to get off track when away from home or when your children are off their usual schedule.
Summer is also a great time to bring your children to Grandview Corners Dental & Wellness Centre.  It won't be long before back to school season begins, so take advantage of your child's free time to book a routine dental checkup and examination.
Call us today to book a summer appointment for your kids – you'll be glad you did!
If you're pregnant or planning on having a baby in the near future it is very important to visit Grandview Corners Dental & Wellness Centre, so we can partner with you to ensure a healthy and worry-free pregnancy. Put simply, healthy moms make healthy babies and excellent oral health is a key aspect of optimal overall health.
Minimizing exposure to X-rays and anaesthesia just makes sense for expectant moms – we'll work with you to ensure that any outstanding dental X-rays and dental treatments are completed prior to pregnancy so that you don't have to factor in appointments or dental emergencies.
Preventative dentistry visits can also provide a health benefit prior to and throughout your pregnancy.   Research indicates that over 40% of women within reproductive age have some form of gum disease.   Gum disease is a bacterial infection that saps your vitality and the ability of your body to care and nurture for your growing baby.   What is more, studies reveal that there is close correlation between pre-term births, low birth weights and gum disease!
Maintaining excellent oral health is also important for new moms – routine cleanings reduce the risk of passing on harmful oral bacteria to your new born through saliva exchange from kissing or testing baby's food. Oral bacteria can cause harm even before your baby's teeth break through the gums.
At Grandview Corners Dental we celebrate our patient's lives and seek to support families at every stage – providing educational information and proactively managing oral health for expectant and new mothers is just one way we show our commitment!
If you are pregnant or planning on having a baby in the near future, allow us to help protect you and your baby from the dangers of oral bacteria and gum disease.   Contact us to book a personalized hygiene program today!
We are pleased to announce that Grandview Corners Dental has been chosen for membership in 123Dentist.com's Dentist Network!
Finding the right dentist used to be hit or miss.   123Dentist.com changes that.   The 123Dentist.com website is a fast and convenient service that helps consumers find an expert dentist in their neighborhood who stands for superior results and who is committed to putting patients first. The 123Dentist.com website search engine is an innovative and easy tool connecting BC residents to a directory of world-class dentists – whether one is looking for a general dentist, a cosmetic dentist, or even for a dentist who provides a particular solution such as Sedation Dentistry, or Invisalign invisible braces – 123Dentist.com provides a list of local dental experts who can be trusted to deliver results.
The 123 Dentist Network also chooses practices that are modern and comfortable in order to create a soothing and relaxing patient experience.
To make the grade,  a member of 123Dentist.com must be more than skilled and certified. He or she must also be 100% committed to excellence, patient care, and professionalism. That way when patients use 123Dentist.com to find the ideal local dentist – they know they're getting the very best.
Grandview Corners Dental were elected and pre-screened, meeting a set of high standards that cover everything from skill to attitude. We were also chosen to be a part of the 123 Dentist Network because we offer the latest solutions in the dental industry and we invest the time it takes to make sure our patients are comfortable, confident, informed and empowered.
Being a part of 123Dentist.com's Dentist Network is an excellent way for Grandview Corners Dental to reach out to our Surrey, BC community and make our presence known to patients who are new to the neighborhood, seeking the latest in dentistry, or wanting a better dental experience.
Contact us to book an appointment and learn first hand what sets us apart from the rest!
If you suffer from jaw pain, frequent headaches, and worn teeth, you are likely grinding your teeth at night while you sleep. Bruxism (commonly known as 'teeth grinding') is a common problem that can compromise your quality of life by reducing the function of your teeth and causing chronic pain in your neck and jaw.
In today's fast paced society, stress is an inevitable part of life and one of the ways stress can manifest itself is through involuntary tooth grinding while you sleep. Besides the fact that it can be loud enough to disturb your sleeping partner, bruxism can keep you from getting the peaceful rest you need to perform at your best.   It can also cause significant pain and headaches during your waking hours, hindering your capacity to enjoy your life and live it to the fullest.
Teeth that have endured the pressure and wear of nightly grinding are much more likely to chip, break, and deteriorate over time. The damage incurred from teeth grinding can be costly to repair. With this in mind, correcting your bruxism as early as possible with a dental night guard can save you the headaches and financial cost of worn teeth in the future.
When you suffer from night teeth grinding, the force of the grinding, along with the pressure created by clenching your jaws, not only causes wear and damage to you teeth but can also significantly reduce your bite function. Poor bite function can reduce your nutrient intake and thus your energy levels, along with your whole body heath and overall happiness!
Our team at Grandview Corners Dental is invested in protecting your oral and overall health, and in the case of bruxism, we believe it is in your best interest to correct the problem with a dental night guard. It's simply the most effective solution to bruxism – a solution that is guaranteed to protect your teeth, thereby enriching your health, lifestyle and well-being.
Your experts at Grandview Corners Dental wish to partner with you to combat bruxism.   We offer night guards which protect your teeth from the damage caused by countless hours of nighttime tooth grinding.
Suffer from those nagging headaches and that persistent jaw pain no longer.   Call our office today to enjoy the benefits of a good night's rest!
The time has come to hit the beach, relax on outdoor patios, host backyard BBQ's and get away on vacation to enjoy family fun in the sun.  This is also a special time to celebrate love with picnics, strolls in the park and the romance of warm summer moonlit nights.  Summer is here and so is the opportunity to get outdoors and experience the lifestyle we wait all year long for!
Nothing will complement your summer fun better than a sparkling smile care of your experts at Grandview Corners  Dental.   With summer weddings and family reunions on the horizon, you can dazzle your family and friends with a stunning smile that exudes confidence and joy.
Eat and drink whatever you want while soaking up the sun and we'll do our part in keeping your smile white, bright and beautiful. All we ask in return is that you show it off every chance you get, and let your friends and family know the secret of your brilliant smile.
A gorgeous smile helps create happy memories and will ensure you look fabulous in family photos that will last a lifetime. Visit our Surrey, BC office and tell us about your summer plans. We'll ensure you have the winning smile to show off at every social opportunity this summer.
Call  (604) 541-9919  to speak to one of our team members about how we can help get your smile summer ready !
The American Diabetes Association recently announced that studies have identified and confirmed a direct correlation between diabetes and  gum disease. Not only are diabetics more prone to gum disease, but oral health problems such as gingivitis can also affect blood glucose stability, leading to the advancement of diabetes.
Our experts at  Grandview Corners Dental  share a passion for staying at the forefront of the healthcare field as the industry evolves in knowledge, treatments and  technology.  New research has confirmed that excellent oral health is integral to the maintenance of excellent whole body health.   Evidently, this link is vital to our patients who are diabetic.
Diabetes and unstable blood glucose levels increase your risk of developing serious gum disease and losing teeth. Furthermore, recent and potentially groundbreaking studies have found that gum disease can contribute to a rise in blood sugar and thus make diabetes harder to control.
If you suffer from a diabetic condition, you can effectively increase your chances of related complications by neglecting to care for your teeth and gums. The most important ways for our diabetic patients to maintain optimal oral health include: 1) Controlling glucose levels, 2) Visiting Grandview Corners Dental every six months for your professional cleaning, 3) Keeping us aware of how you are managing your diabetes, 4) Brushing your teeth at least twice daily after meals, flossing daily, and using mouthwash, 5) Quitting smoking, 6) Becoming more aware of warning signs such as  receding,  tender or bleeding gums, and loose teeth.
Grandview Corners Dental is concerned with every aspect of our patients' health, and would like to partner with you to restore and revitalize your overall heath. If you have diabetes, speak to one of our team members about how we can best protect your oral health.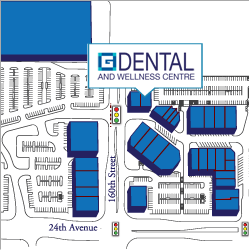 Click
here
to view a larger map.
SEARCH THE SITE
Book Your Checkup Today!