Browsing articles in "Blog"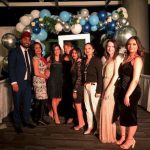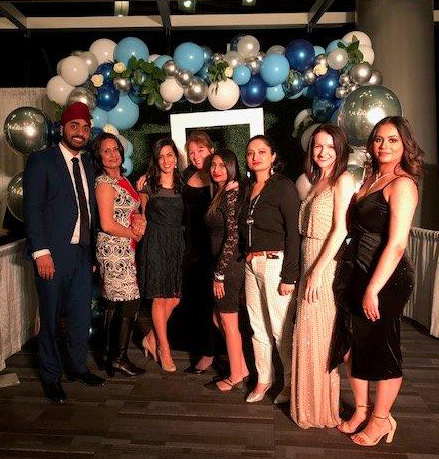 Our team had a blast at the 123Dentist Holiday Party! Here we are at one of the photo booths.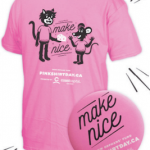 Our team is proud to support Pink Shirt Day and take a stand against bullying.
Kindness is universal – a trait we encourage everyone to openly express every day. The phrase "Make Nice," acts as a friendly reminder that no matter what our differences, kindness is always a choice worth making.
Being kind and "Making Nice" is the underlying philosophy behind the anti-bullying movement that we hope will live on beyond Pink Shirt Day.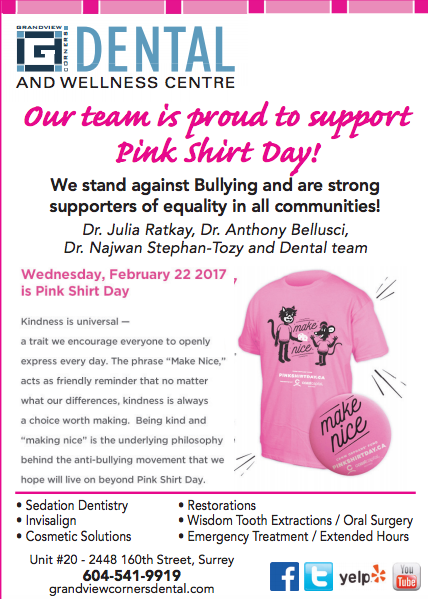 Thank you to all the kids at Morgan Elementary for helping us to design our newspaper ad. Your designs and drawings were wonderful, and we were blown away with your talent. Check out the ads below to see our winner and runner-ups.
Congratulations to our winner, Jordan! You can now see this ad in our local newspaper:
Selecting a winner was a tough decision since we had so many awesome submissions. Thank you to everyone who participated!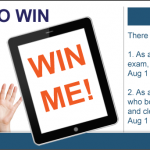 We are proud to announce that we have a winner in our iPad mini contest.
Stay tuned for future promotions!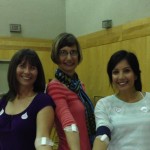 Recently members of our staff donated blood at a mobile blood donation clinic in Cloverdale (put on by Canadian Blood Services). If you've never donated blood before, you may be wondering what the whole process entails. Now you'll learn why donating blood is so important, how you can participate, and what to expect on the day of your first blood donation.
Why Blood Donations Are Necessary
Blood transfusions are used to save the lives of people who have lost too much of their own blood or who have conditions such as sickle cell disease. According to the World Health Organization, millions of patients worldwide still cannot get timely access to safe blood transfusions.
Perhaps if blood could be synthesized in a lab, this problem would not exist, but medical science has not yet figured out a way to create blood. This means that every ounce of blood used in transfusions must be donated.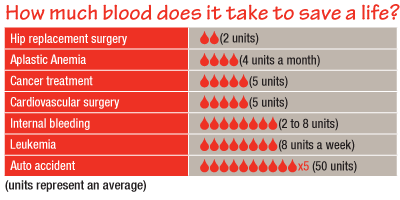 How You Can Donate Blood
It's easy to register to give blood. Blood donations are accepted throughout the entire year. The Red Cross organizes periodic blood drives, so you can simply sign up when you are asked. Or, contact the Red Cross to find a donation center near your location. You can also ask your workplace to sponsor a blood drive.
What To Expect When You Donate Blood
Donating blood is safe, quick, and usually painless. However, if you don't take the appropriate precautions, you may experience side effects such as heavy bruising, dizziness, or fatigue. You can avoid these side effects by:
Eating high-iron, low-fat meals a few days before your blood donation
Drinking plenty of water and juice
Avoiding caffeine, alcohol, and soft drinks
Getting enough sleep the night before your donation
Having a high-protein snack just before and just after giving blood
When you arrive at the blood donation site, you will need to answer some questions. Your answers to the questions determine your eligibility to give blood. For example, if you have traveled in certain countries during specific time periods, you may not be allowed to give blood.
Once you've answered the screening questions, your iron levels will be tested to ensure that you are
not anemic. If your hemoglobin count is lower than 12.4 grams per deciliter, you cannot donate blood (which is why it's so important to eat high-iron foods).
Once your eligibility has been established, the blood will be drawn. A sterilized hypodermic needle will be inserted into your vein, usually in your arm. The procedure takes about 15 minutes. If you feel a bit queasy, take some deep breaths. Most people find that it helps to avoid looking at the needle.
After you've donated blood, sit still or lie down for about 10 or 15 minutes. Drink a full glass of water and have something to eat. Make sure you do not need to drive anywhere, and plan to spend the rest of the day doing sedentary activities. Avoid lifting weights or any kind of strenuous exercise. Do take a short walk later in the day if you're feeling up to it, as light exercise can help to stabilize your blood sugar levels.
The day after donating blood, your energy levels will be back to normal. If you took the proper precautions, you will not experience any noticeable bruising or other side effects.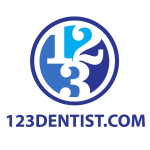 Please be advised that effective May 1, 2013 this clinic and all other clinics that are members of the 123Dentist.com Community Dentist Network will no longer be offering Air Miles(tm) reward miles.
If you have any questions, please contact us at your earliest convenience. Thank you!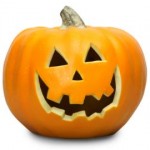 Join Grandview Corners Dental on Sunday, October 21 for the Great Pumpkin Run/Walk in beautiful White Rock!
The Great Pumpkin Run is a fundraising event for the Peace Arch Hospital Emergency Room. Grandview Corners Dental and Wellness Centre is sponsoring the event with a donation of $500 and on-site booth where Run/Walk participants and supporters can receive free 123Dentist.com tote bags and dental goodies. Spot the 123Dentist.com Community Cruiser and come and say hello!
If you would like to sponsor our team, the 123 Dentist – Plaque Attackers, and help us meet our fundraising goals, please click here to find our official Great Pumpkin Run/Walk page.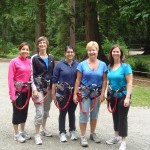 At Grandview Corners Dental & Wellness Centre we strongly believe in maintaining a friendly, team environment for all of our staff.
Recently, our dental team spent the day at Wild Play Maple Ridge and had an absolute blast! Wild Play allowed us to get outdoors and embrace our fears by maneouvering through a series of suspended obstacle games across four Course Sections of ladders, cargo nets, rope swings, tightropes, swinging logs, and wobbly bridges. All this took place at heights that reached up to 60 feet above ground!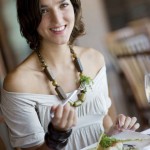 Preventing cavities is sometimes not an easy task. Do you find yourself prone to getting a lot of dental cavities even though you brush your teeth twice a day, floss daily and visit your Surrey dentist Grandview Corners Dental every six months for a regular checkup? The problem may actually be linked to your diet. Here are a few super snacks that can help keep your teeth and gums at their healthiest in the constant struggle of preventing cavities:
Fruits & Veggies:
Apples, celery and cucumbers are all excellent super snacks for your dental health. These super snacks are nutritious and will help keep clean the surfaces of your teeth and massage your gums, improving circulation.
Dairy products:
Milk, cheese and calcium help with preventing cavities. These super snacks are rich in calcium and help neutralize acids in the mouth, reducing the incidence of cavities and tooth decay.
Other Great Snacks:
Nuts are excellent super snacks for oral health because they provide calcium and phosphate – elements that help keep dental enamel strong.
Dental professionals recommend avoiding any sugary snacks because sugar feeds the bacteria in the mouth and causes cavities. If you have any questions about which snacks are appropriate and which aren't, or if you would like to book an appointment at Grandview Corners Dental, your Surrey dentist, to learn more about preventing cavities, please click here.
Subscribe to Grandview Corners Dental's blog for more dental secrets and contact us today to take care of your oral health care. We're social, too! Follow us on Facebook, Twitter and YouTube.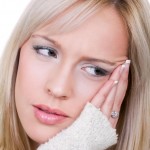 If you're suffering from a toothache, contact Grandview Corners Dental, your Surrey dentist, as soon as possible – your tooth may be abscessed and require emergency dental care. Come in to our Surrey dental clinic to avoid complications such as surgery or a tooth extraction if you experience any type of toothache.
The good news is, there are some tried and true toothache pain relief methods and here they are, brought to you by the caring team of oral health care experts at Grandview Corners Dental.
Applying a cold compress to your jaw should alleviate a toothache. The cold reduces blood flow to the site and therefore reduces swelling and pain. Apply a cold compress as often as necessary until the pain subsides.
Pain medication can help relieve a toothache but be sure not to exceed the recommended dose. Pain relievers such as aspirin and Advil typically contain anti-inflammatory medicine which can reduce the pain and swelling associated with a toothache.
Warm Salt Water and Baking Soda 
Salt and Baking Soda combine to make an excellent anti-bacterial mouth-rise that can help reduce the amount of bacteria in your mouth and potentially reduce the swelling and pain that stems from a toothache.
Pure clove oil, available in most drugstores, can act as a numbing agent if applied directly to the tooth. Don't apply to the gums or apply too much as clove oil can be poisonous in too-high quantities. If you don't want to use clove oil, a clove of garlic is an excellent substitute – simply hold it against the tooth for a few minutes and rinse with warm water afterward.
Teas such as black and green teas are high in tannins, which are known to reduce swelling and help your blood to clot and therefore improve healing. Microwave the teabag in a small dish filled with water for about 30 seconds or until warm, squeeze the excess water and bite down on the teabag, holding it against your tooth/gum.
However, remember that any toothache is a bad toothache so contact Grandview Corners Dental, your Surrey dentist, for an appointment as soon as possible.
Subscribe to the Grandview Corners Dental Blog for more secrets straight from your dentist. We're social, too! Follow us on Facebook, Twitter and YouTube.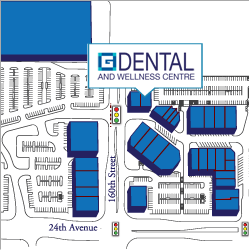 Click
here
to view a larger map.
SEARCH THE SITE
Book Your Checkup Today!