Recently members of our staff donated blood at a mobile blood donation clinic in Cloverdale (put on by Canadian Blood Services). If you've never donated blood before, you may be wondering what the whole process entails. Now you'll learn why donating blood is so important, how you can participate, and what to expect on the day of your first blood donation.
Why Blood Donations Are Necessary
Blood transfusions are used to save the lives of people who have lost too much of their own blood or who have conditions such as sickle cell disease. According to the World Health Organization, millions of patients worldwide still cannot get timely access to safe blood transfusions.
Perhaps if blood could be synthesized in a lab, this problem would not exist, but medical science has not yet figured out a way to create blood. This means that every ounce of blood used in transfusions must be donated.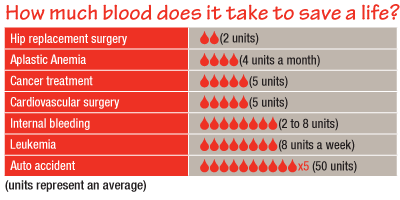 How You Can Donate Blood
It's easy to register to give blood. Blood donations are accepted throughout the entire year. The Red Cross organizes periodic blood drives, so you can simply sign up when you are asked. Or, contact the Red Cross to find a donation center near your location. You can also ask your workplace to sponsor a blood drive.
What To Expect When You Donate Blood
Donating blood is safe, quick, and usually painless. However, if you don't take the appropriate precautions, you may experience side effects such as heavy bruising, dizziness, or fatigue. You can avoid these side effects by:
Eating high-iron, low-fat meals a few days before your blood donation
Drinking plenty of water and juice
Avoiding caffeine, alcohol, and soft drinks
Getting enough sleep the night before your donation
Having a high-protein snack just before and just after giving blood
When you arrive at the blood donation site, you will need to answer some questions. Your answers to the questions determine your eligibility to give blood. For example, if you have traveled in certain countries during specific time periods, you may not be allowed to give blood.
Once you've answered the screening questions, your iron levels will be tested to ensure that you are
not anemic. If your hemoglobin count is lower than 12.4 grams per deciliter, you cannot donate blood (which is why it's so important to eat high-iron foods).
Once your eligibility has been established, the blood will be drawn. A sterilized hypodermic needle will be inserted into your vein, usually in your arm. The procedure takes about 15 minutes. If you feel a bit queasy, take some deep breaths. Most people find that it helps to avoid looking at the needle.
After you've donated blood, sit still or lie down for about 10 or 15 minutes. Drink a full glass of water and have something to eat. Make sure you do not need to drive anywhere, and plan to spend the rest of the day doing sedentary activities. Avoid lifting weights or any kind of strenuous exercise. Do take a short walk later in the day if you're feeling up to it, as light exercise can help to stabilize your blood sugar levels.
The day after donating blood, your energy levels will be back to normal. If you took the proper precautions, you will not experience any noticeable bruising or other side effects.