Sedation Dentistry
We strive to deliver our oral health solutions in a comfortable setting.
Everything from our interior design to our warm and caring staff put our patients at ease. We have many patients who specifically choose to come to us because we ensure that their appointment is enjoyable, pain-free, and even relaxing.
Oral Sedation
Conscious oral sedation refers to taking medication by mouth in pill or liquid form before your appointment begins. You will be able to experience your entire procedure in a dreamy, comfortable state while still being conscious and able to respond to our dental team. Oral sedation is perfect for patients who require complicated procedures or to complete multiple solutions in a single visit. You are unaware of the passing of time, even an extended visit will seem like it only took a matter of minutes.
Contact us to book your safe, comfortable and pain-free dental appointment today.
Nitrous Sedation
Nitrous oxide (or "laughing gas") sedation, like Oral Sedation is another form of conscious sedation (meaning you will remain awake throughout the entire procedure). This is a safe, predictable way to manage your anxiety. The mixture of oxygen and nitrous oxide gas is delivered thorough a nosepiece while you are fully awake.  As the gases begin to work, you may experience tingling in your fingers, toes, mouth, and nose.  This is also sometimes described as a "good warm feeling".
Contact us to book your nitrous sedated dental visit.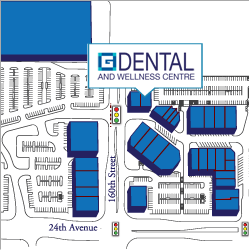 Click
here
to view a larger map.
SEARCH THE SITE
Book Your Checkup Today!