Browsing articles tagged with "White Smile Archives | Grandview Corners Dental & Wellness Centre"
The time has come to hit the beach, relax on outdoor patios, host backyard BBQ's and get away on vacation to enjoy family fun in the sun.  This is also a special time to celebrate love with picnics, strolls in the park and the romance of warm summer moonlit nights.  Summer is here and so is the opportunity to get outdoors and experience the lifestyle we wait all year long for!
Nothing will complement your summer fun better than a sparkling smile care of your experts at Grandview Corners  Dental.   With summer weddings and family reunions on the horizon, you can dazzle your family and friends with a stunning smile that exudes confidence and joy.
Eat and drink whatever you want while soaking up the sun and we'll do our part in keeping your smile white, bright and beautiful. All we ask in return is that you show it off every chance you get, and let your friends and family know the secret of your brilliant smile.
A gorgeous smile helps create happy memories and will ensure you look fabulous in family photos that will last a lifetime. Visit our Surrey, BC office and tell us about your summer plans. We'll ensure you have the winning smile to show off at every social opportunity this summer.
Call  (604) 541-9919  to speak to one of our team members about how we can help get your smile summer ready !
Why not get Dad or your favorite Grad a lasting and practical gift that they'll use over twenty thousand times this year?  A Whiter and Brighter Smile!  Studies reveal that the average person smiles up to 62 times a day. That's 343 smiles each week and 22 568 smiles per year!  
For Dad
Your trusted expert dentists at Grandview Corners Dental have a great gift idea for the special man in your life this Father's Day.   Why not invest is Dad's health and happiness by getting him a Professional Whitening Treatment?  He'll smile ear to ear when you tell him you want him to look and feel great as an expression of your love for him!  
For Grads
Perhaps you are the proud mother, father, relative or grandparent of a young graduate this June. What better way to propel your loved one towards career success after graduation than with a dazzling white smile?   Plus, a brighter smile in those graduation photos will be a timeless reminder of the pride and joy that goes with hard work and achievement!
At Grandview Corners Dental we're proud to help you celebrate family and life accomplishments.  To book a Professional Whitening for that special person in your life this June, just contact our Surrey, BC office – we'll help you ensure they'll receive the gift that keeps them smiling all year long!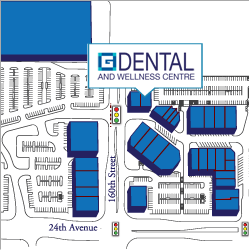 Click
here
to view a larger map.
SEARCH THE SITE
Book Your Checkup Today!