Browsing articles tagged with "preventative dentistry Archives | Grandview Corners Dental & Wellness Centre"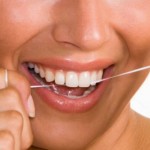 Using dental floss properly is essential to your oral health because it eliminates plaque and gets rid of food bits in places where a toothbrush can't reach. These areas are in between the teeth and underneath the gum-line. Here are some great oral health tips on clean teeth and dental floss from the dental team at Grandview Corners Dental and Wellness Centre in Surrey.
"Why is dental plaque so bad for me?"
When dental plaque builds up, it can cause tooth decay and gum disease, which is why the dental team at Grandview Corners Dental and Wellness Centre in Surrey recommends that you use dental floss regularly, every day.
"How do I floss properly?"
Here are some strategies on using dental floss most effectively:
– Give yourself about 18 inches of floss and wrap it around both of your middle fingers. Leave an inch or so of dental floss that you can maneuver.
– Hold the dental floss in a flexible way and keep it between your thumbs and index fingers. Be gentle when sliding it up and down between your teeth.
– Take the dental floss and put it around the base of each tooth so you get into the gumline. Do not be forceful with the floss because it can harm gum tissue.
– When you move between teeth, be sure to use the clean section of the floss.
-Removing the floss from your mouth is easy: use a similar back-and-forth motion so you can move the floss up and away from your teeth.
The two kinds of floss you can use are Nylon floss or PTFE. With nylon floss, you can choose between waxed and unwaxed, and there are many different flavors. The problem with nylon floss is that it can sometimes tear easily, but this won't happen with PTFE floss. PTFE floss is more expensive but worth it because it maneuvers easily between teeth and won't shred. However, both kinds of floss are efficient in eliminating plaque.
For any questions about dental floss and clean teeth, contact us at Grandview Corners Dental and Wellness Centre in Surrey and we can give you all the information you need.
So, do you have the answer to "How do I floss properly" yet? If not, check out this informative video from Colgate:
Do your gums often get red, swollen, and tender or do they bleed easily? Have your gums pulled away from your teeth at all? Are your teeth loose or separating? Do you suffer from chronic bad breath (halitosis) or a bad taste in your mouth? Have you experienced any changes in your bite?
If your answer was yes to any of these questions you may have gum disease, also known as periodontal disease.
Gum disease is essentially an infection of the teeth's supporting tissues. Gum disease targets the area just below the gum line, where it can break down the attachment between the tooth and its supporting tissues. As the tissues are damaged, pockets are created where bacteria can thrive and impact your oral health.
Did you know it's possible to have gum disease without any symptoms or warning signs? Gum disease has two main stages known as gingivitis and periodontitis. Gingivitis is the less severe and reversible form of gum disease, which affects the gums only. If Gingivitis is neither identified nor reversed it will likely lead to periodontitis, a more severe form of gum disease which in turn affects your overall health.
The dental experts at Grandview Corners Dental assess the health of your teeth and gums at every appointment, checking for the signs of gum disease and performing professional cleaning to ensure that pockets of bacteria and plaque don't build up in your mouth.   Your hygiene professional will provide personalized guidance on how often you should visit to prevent gum disease or what is required to get rid of active infection.   They will also instruct you on how best to care for your teeth between visits.
Contact Grandview Corners Dental & Wellness to book your preventative dentistry appointment today, and we will work with you to ensure that your smile is healthy and your energy levels high to support your active lifestyle.
Oral Health month is quickly coming to an end. Your health partners at Grandview Corners Dental want to equip you with the oral health education that will keep you smiling for years to come.  
Healthy teeth and gums are a vital part of a healthy body, and maintaining a healthy body is essential to attaining the enhanced lifestyle you and your family deserve. We all know optimal health is what keeps you feeling vital and vibrant, allowing you to participate in the sports, hobbies, and social activities you can't live without.
At Grandview Corners Dental we are invested in your long-term wellness and thus, we offer preventative oral cancer exams, as well as periodontal treatments and solutions which enable you and your family to live your lives to the fullest.  
It is often said that an ounce of prevention is worth a pound of cure, and in the case of oral cancer, this is especially true. Recent studies have shown that your dentist is often the first to detect early signs of oral cancer and other serious diseases.
Because oral cancer is on the rise, we offer oral cancer screenings as a part of your routine hygiene appointments. In the following public service announcement, famous actress and mother of Gwyneth Paltrow, Blythe Danner, speaks out about oral cancer.
Blythe Danner created this public service announcement to help share what her family has learned about the importance of taking every possible step to prevent oral cancer in its earliest stages.
Preventing oral cancer can be as simple as asking your dental expert for an oral cancer screening at your next appointment. It's always worthwhile to take steps to protect your greatest asset – your family's health. Contact us to book your oral cancer screening today!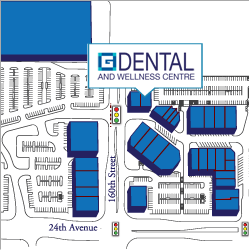 Click
here
to view a larger map.
SEARCH THE SITE
Book Your Checkup Today!