Browsing articles tagged with "gum disease Archives | Grandview Corners Dental & Wellness Centre"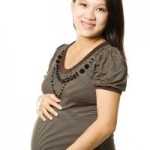 If you're pregnant and wondering what effect your oral health might have on your unborn baby, the dental health experts at our dental practice want patients to know the facts about how oral health can impact pregnancy.
There has been evidence that shows a correlation between gum disease and premature babies. Researchers have revealed that pregnant woman who have gum disease are more likely than other pregnant women to have a premature birth.
There needs to be more research on this subject, but it does seem that gum disease is detrimental to fluids that induce labour. If gum disease worsens during pregnancy, the risk will be greater of having a baby born too early or too small.
The dental health team at Grandview Corners Dental and Wellness Centre encourages pregnant women to visit our Surrey dental practice for regular dental appointments so that oral health issues can be treated before they have an impact on pregnancy.
While you are pregnant, the team at our Surrey dental practice will pay close attention to your teeth and gums. In order to keep your mouth healthy, brush and floss on a regular basis and make sure your diet is nutritious. Ensure that you visit Grandview Corners Dental and Wellness Centre in Surrey  for your regular checkups and to prevent dental issues.
Aside from gum disease, another issue that women may develop during pregnancy is gingivitis. This occurs when plaque is stored in the teeth, causing gums to be irritated. Symptoms of this dental problem are red, swollen and bloody gums, and inflammation.
Gingivitis is a major concern for pregnant women who visit our Surrey dental practice because the high level of hormones make the way gums respond to plaque much worse. It should be noted that plaque is the major cause of pregnancy gingivitis, not hormones.
If you are diligent about keeping your teeth clean, this will reduce your chances of gingivitis. Make sure to pay special attention to the gumline, as it attracts plaque and bacteria the most.
Let the Grandview Corners Dental and Wellness Centre team at Surrey know about your pregnancy when you make your appointment.
Halloween is on the horizon and your health partners at Grandview Corners Dental & Wellness Centre want to help you protect your kids from something even scarier than zombies, ghosts and goblins this Halloween. There's something even more bone-chilling called tooth decay!
We all remember the joys of trick-or-treating, and coming home to unload our sugary spoils and eat candy until our tummies ached. Parents are in the scariest position at Halloween, predicting the cavities, temper tantrums and hyperactivity that will result from the copious candy intake by their youngsters.
The best way to avoid any of these truly tricky consequences in the aftermath of Halloween is not to consume any candy at all. However, we know that's highly unlikely and that's why your experts at Grandview Corners Dental have created a Halloween candy guide to help protect your kids from tooth decay and thereby ensure their optimal oral health for life.
Below is a listing from most harmful to the safest treats your kids should be choosing from their trick-or-treat bag:
Sour Power – Sour candies are the absolute worst in that studies have revealed that the acids in sour candies are so destructive because they dissolve enamel on contact!
Hardly Harmless – Hard candy needs to be sucked on for an extended period of time and very chewy candies are harmful in that they get stuck between the teeth. Both hard and chewy candy allow bacteria to wreak havoc on your child's teeth for a much longer period of time.
Resist Raisins – Don't be fooled by their natural derivative. Raisins easily damage dental work because they are very sticky and do not mix well with fillings, braces or retainers.
Candy Bars Get Four Stars – While we can't say candy bars are good for your oral health, they are less harmful because they are eaten quickly allowing less time for the sugar to damage with acid.
Dissolve Your Worry – Powder candy is fairly safe as the sugar dissolves quickly and makes little contact with the teeth.
Eat Two or Three if They're Sugar Free – As obvious as it seems, sugar-free candy is the most highly recommended Halloween treat for your children's teeth. You can even prevent cavities by chewing sugar free gum! Sugar free gum promotes increased saliva which neutralizes harmful bacteria.
If your little monsters will be in need a routine dental cleaning after Halloween give us a call and book an appointment today!
Sometimes due to fear, laziness or anxiety, patients tend to forget  about booking a regular dental cleaning or checkup at their local, friendly dental clinic. In order to encourage you to schedule your next checkup and cleaning at Grandview Corners Dental now, here's a few good reasons why regular dental visits are so important:
"Patients who visit the dentist regularly are much less likely to need major procedures such as root canals, gum grafts and tooth extraction."
1. Avoid Painful Procedures: Patients who visit the dentist regularly are much less likely to need major procedures such as root canals, gum grafts and tooth extraction. This means that patients are saving money, avoiding painful dental procedures and staying healthy!
2. Beautiful Smiles: A good looking smile starts with healthy teeth, and regular checkups and cleanings at Grandview Corners Dental will keep you looking your best. A professional cleaning can also help remove stains on your teeth, giving them a healthy shine that will impress everyone you meet.
3. Detect oral cancer early: One of the deadliest cancers, but easiest to diagnose, is oral cancer. At our Surrey dental clinic, we have invested in the VELscope exam system, which works to detect cancer at the earliest stages.
4. Good example for your kids: If you have children who look up to you, make sure you practice good oral hygiene habits. Make dental checkups a priority in life, allowing for a future full of healthy smiles.
5. Reduce gum disease: Many adults will eventually get some type of periodontal disease, a leading cause of tooth loss. Luckily, gum disease can easily be treated or reversed, but only if your oral health is checked closely by the team at Grandview Corners Dental.
For more information on maintaining good oral health, or to book a dental cleaning and checkup, contact us today!
Children's dental care is often overlooked in Surrey, because many parents think that baby teeth are just going to fall out and be replaced by adult teeth. However, regular family dental care is important for all family members "young and old.
"Aside from the fact that tooth decay is the most preventable illness in children, not taking care of baby teeth can lead to future problems as an adult."
Taking care of baby teeth is one of the most valuable lessons to teach young, impressionable children. Aside from the fact that tooth decay is the most preventable illness in children, not taking care of baby teeth can lead to future problems as an adult.
Early Dental Disease
Cavities are painful and they can also cause embarrassment, wasted time, speech impediments and more. Even though baby teeth are going to fall out, protecting these teeth will not only help improve overall health and wellness at the present, they will also help lead to healthy adult smiles.
Practice Good Oral Health
Maintaining great oral health should be a fun experience for both you and your child. From an early age, it is an important idea to promote brushing and flossing daily. Bad habits form at an early age, visit your local family dental clinic to learn tips and tricks on how to encourage proper oral health habits.
For more information on children dentistry, or to book an appointment at Grandview Corners Dental, contact us today.
Do your gums often get red, swollen, and tender or do they bleed easily? Have your gums pulled away from your teeth at all? Are your teeth loose or separating? Do you suffer from chronic bad breath (halitosis) or a bad taste in your mouth? Have you experienced any changes in your bite?
If your answer was yes to any of these questions you may have gum disease, also known as periodontal disease.
Gum disease is essentially an infection of the teeth's supporting tissues. Gum disease targets the area just below the gum line, where it can break down the attachment between the tooth and its supporting tissues. As the tissues are damaged, pockets are created where bacteria can thrive and impact your oral health.
Did you know it's possible to have gum disease without any symptoms or warning signs? Gum disease has two main stages known as gingivitis and periodontitis. Gingivitis is the less severe and reversible form of gum disease, which affects the gums only. If Gingivitis is neither identified nor reversed it will likely lead to periodontitis, a more severe form of gum disease which in turn affects your overall health.
The dental experts at Grandview Corners Dental assess the health of your teeth and gums at every appointment, checking for the signs of gum disease and performing professional cleaning to ensure that pockets of bacteria and plaque don't build up in your mouth.   Your hygiene professional will provide personalized guidance on how often you should visit to prevent gum disease or what is required to get rid of active infection.   They will also instruct you on how best to care for your teeth between visits.
Contact Grandview Corners Dental & Wellness to book your preventative dentistry appointment today, and we will work with you to ensure that your smile is healthy and your energy levels high to support your active lifestyle.
If you're pregnant or planning on having a baby in the near future it is very important to visit Grandview Corners Dental & Wellness Centre, so we can partner with you to ensure a healthy and worry-free pregnancy. Put simply, healthy moms make healthy babies and excellent oral health is a key aspect of optimal overall health.
Minimizing exposure to X-rays and anaesthesia just makes sense for expectant moms – we'll work with you to ensure that any outstanding dental X-rays and dental treatments are completed prior to pregnancy so that you don't have to factor in appointments or dental emergencies.
Preventative dentistry visits can also provide a health benefit prior to and throughout your pregnancy.   Research indicates that over 40% of women within reproductive age have some form of gum disease.   Gum disease is a bacterial infection that saps your vitality and the ability of your body to care and nurture for your growing baby.   What is more, studies reveal that there is close correlation between pre-term births, low birth weights and gum disease!
Maintaining excellent oral health is also important for new moms – routine cleanings reduce the risk of passing on harmful oral bacteria to your new born through saliva exchange from kissing or testing baby's food. Oral bacteria can cause harm even before your baby's teeth break through the gums.
At Grandview Corners Dental we celebrate our patient's lives and seek to support families at every stage – providing educational information and proactively managing oral health for expectant and new mothers is just one way we show our commitment!
If you are pregnant or planning on having a baby in the near future, allow us to help protect you and your baby from the dangers of oral bacteria and gum disease.   Contact us to book a personalized hygiene program today!
The Grandview Corners Dental team is excited to announce the kick off of Oral Health Month!
Oral Health Month is an annual reminder (throughout the month of April) of the relevance and importance great oral heath habits have with respect to you and your family! With gum disease, oral cancer and poor oral hygiene on the rise, your oral health partners at Grandview Corners Dental are here to provide a wide variety of dental services to restore and enhance your oral heath, which in turn will boost your overall heath and vitality.
Of all the investments you make, investing in your health is the key to attaining and maintaining the enhanced lifestyle you can enjoy for the rest of your life! Your dental experts at Grandview Corners Dental are committed to joining with you in achieving your oral and overall heath goals to keep you smiling for years to come.
From preventative oral cancer screenings, to cosmetic dentistry – we provide oral health education and solutions which are guaranteed to enrich the lives of our valued Surrey, BC patients.
Along with daily brushing and flossing, our dental experts perform routine hygiene treatments with ultrasonic cleaners, which are an essential part of optimum oral health.  We recognize the intrinsic link between a healthy smile and a healthy body and we seek to do our part in ensuring our patients success in all areas of life starting with their health thus positively influencing their social, professional, and outdoor recreational lifestyle.
We are always interested in hearing about upcoming events in your life and career so we can help out in whatever capacity (for example professional whitening treatment). Be sure to schedule appointments for you and your family today, allowing us to do our job in enriching your health, maximizing your smile potential and achieving the lifestyle you deserve.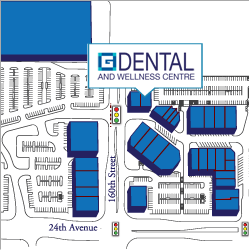 Click
here
to view a larger map.
SEARCH THE SITE
Book Your Checkup Today!