Browsing articles tagged with "Dr. Felix Zhang Archives | Grandview Corners Dental & Wellness Centre"
Thanks to Dr. Felix Zhang, a recent addition to our team of experts, Grandview Corners Dental & Wellness Centre now offers IV sedation dentistry. Dr. Zhang has been specially trained to prepare and administer IV sedation to our patients, allowing us to offer even the most apprehensive dental patients a relaxing, enjoyable experience.
If you are an anxious dental patient or have a strong gag reflex, you may wish to inquire further about how IV sedation can enhance your dental visit. If you require a complicated dental procedure or wish to complete several treatments in one visit, IV Sedation might be the ideal option for you, allowing you to leave your appointment feeling refreshed.
Allow our team to transform or restore your smile to brilliant perfection – all while you sleep!
Please contact us if you think IV sedation is the right choice for you!
Grandview Corners Dental and Wellness Centre is proud to welcome Dr. Felix Zhang as the newest addition to our team of experts and introduce him to the patients of our unique family practice located in Surrey, British Columbia. Dr. Zhang is a well-known expert in the field given both his extensive international education and his experience at Sierra Dental in Calgary, Alberta.
Dr. Felix Zhang received his undergraduate and masters degree in dentistry and oral surgery in China, where he practiced as an oral surgeon for five years before moving to Canada. He continued his studies at UBC where he received his PhD in Oral Health Sciences (2000) as well as an additional degree at the University of Alberta in 2005! Grandview Corners Dental are thrilled about Dr. Zhang joining the team given his expertise in all aspects of dentistry, with special skills and interests in difficult extractions including wisdom teeth, implants, tissue grafts, gum surgery and root canal therapy.
Dr. Zhang is one of few dentists in the Lower Mainland certified to safely administer IV sedation to his patients who may require it.   Along with the Grandview Corners Dental team Felix shares a strong belief in providing quality dentistry with a gentle touch.
Grandview Corners Dental and Wellness Centre was the perfect fit for Felix as our commitment to expertise, total patient focus, broad scope of services and community values naturally align with his core principles.  
Click to learn more about Dr. Felix Zhang or Grandview Corners Dental and Wellness Centre.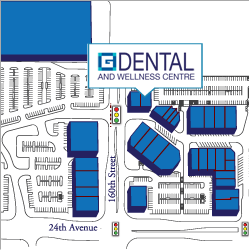 Click
here
to view a larger map.
SEARCH THE SITE
Book Your Checkup Today!