Browsing articles tagged with "Dentistry White Rock Archives | Grandview Corners Dental & Wellness Centre"
The time has come to hit the beach, relax on outdoor patios, host backyard BBQ's and get away on vacation to enjoy family fun in the sun.  This is also a special time to celebrate love with picnics, strolls in the park and the romance of warm summer moonlit nights.  Summer is here and so is the opportunity to get outdoors and experience the lifestyle we wait all year long for!
Nothing will complement your summer fun better than a sparkling smile care of your experts at Grandview Corners  Dental.   With summer weddings and family reunions on the horizon, you can dazzle your family and friends with a stunning smile that exudes confidence and joy.
Eat and drink whatever you want while soaking up the sun and we'll do our part in keeping your smile white, bright and beautiful. All we ask in return is that you show it off every chance you get, and let your friends and family know the secret of your brilliant smile.
A gorgeous smile helps create happy memories and will ensure you look fabulous in family photos that will last a lifetime. Visit our Surrey, BC office and tell us about your summer plans. We'll ensure you have the winning smile to show off at every social opportunity this summer.
Call  (604) 541-9919  to speak to one of our team members about how we can help get your smile summer ready !
The American Diabetes Association recently announced that studies have identified and confirmed a direct correlation between diabetes and  gum disease. Not only are diabetics more prone to gum disease, but oral health problems such as gingivitis can also affect blood glucose stability, leading to the advancement of diabetes.
Our experts at  Grandview Corners Dental  share a passion for staying at the forefront of the healthcare field as the industry evolves in knowledge, treatments and  technology.  New research has confirmed that excellent oral health is integral to the maintenance of excellent whole body health.   Evidently, this link is vital to our patients who are diabetic.
Diabetes and unstable blood glucose levels increase your risk of developing serious gum disease and losing teeth. Furthermore, recent and potentially groundbreaking studies have found that gum disease can contribute to a rise in blood sugar and thus make diabetes harder to control.
If you suffer from a diabetic condition, you can effectively increase your chances of related complications by neglecting to care for your teeth and gums. The most important ways for our diabetic patients to maintain optimal oral health include: 1) Controlling glucose levels, 2) Visiting Grandview Corners Dental every six months for your professional cleaning, 3) Keeping us aware of how you are managing your diabetes, 4) Brushing your teeth at least twice daily after meals, flossing daily, and using mouthwash, 5) Quitting smoking, 6) Becoming more aware of warning signs such as  receding,  tender or bleeding gums, and loose teeth.
Grandview Corners Dental is concerned with every aspect of our patients' health, and would like to partner with you to restore and revitalize your overall heath. If you have diabetes, speak to one of our team members about how we can best protect your oral health.
The team at Grandview Corners Dental are excited to announce the first prize of our summer contest series has been claimed!   On June 15, 2011 Margaret Longdale's  name was drawn as the winner of the Deck BBQ with Friends Prize Pack (valued at $150.00).  
Margaret thanked our team for the amazing care and VIP treatment she has received as our patient over the years noting that she loves how we go out of our way to make her feel like a person rather than just a number.   Margaret was also impressed that our team was able to complete all her son's dental treatment in a single visit using IV sedation!
Our Summer Contest series is yet another way the Grandview Corners Dental team gives back to our valued patients.   If you book your dental appointment for July or August we will automatically enter your name into our summer draw for a chance to win one of three amazing prizes!   Be the next lucky winner of the Deck Barbecue with Friends Prize Pack, BC Beach Picnic Prize Pack or the Wedding Whitening Treatment care of Grandview Corners Dental (each prize is valued at $150.00)!
Call 604-541-9919 to book your appointment today.
Why not get Dad or your favorite Grad a lasting and practical gift that they'll use over twenty thousand times this year?  A Whiter and Brighter Smile!  Studies reveal that the average person smiles up to 62 times a day. That's 343 smiles each week and 22 568 smiles per year!  
For Dad
Your trusted expert dentists at Grandview Corners Dental have a great gift idea for the special man in your life this Father's Day.   Why not invest is Dad's health and happiness by getting him a Professional Whitening Treatment?  He'll smile ear to ear when you tell him you want him to look and feel great as an expression of your love for him!  
For Grads
Perhaps you are the proud mother, father, relative or grandparent of a young graduate this June. What better way to propel your loved one towards career success after graduation than with a dazzling white smile?   Plus, a brighter smile in those graduation photos will be a timeless reminder of the pride and joy that goes with hard work and achievement!
At Grandview Corners Dental we're proud to help you celebrate family and life accomplishments.  To book a Professional Whitening for that special person in your life this June, just contact our Surrey, BC office – we'll help you ensure they'll receive the gift that keeps them smiling all year long!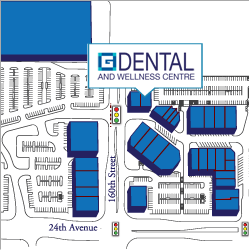 Click
here
to view a larger map.
SEARCH THE SITE
Book Your Checkup Today!