Browsing articles tagged with "Cosmetic Dentist White Rock Archives | Grandview Corners Dental & Wellness Centre"
In existence for over 30 years, dental veneers are still not commonly understood or utilized by many dental patients in Surrey, BC.
While most people have heard of whitening teeth with bleach treatments, they are not aware that they are being exposed to the bleaching alternative almost daily. In fact, dental veneers are worn by actors, models and professionals and play a huge roll in the cosmetic dentistry industry.
"Dental veneers do more than just make your smile look beautiful, they can also help fix for biting problems, help fill in gaps between teeth, or straighten overlapping teeth."
Dental veneers are similar to acrylic fingernails, where a replacement is shaped and placed on the natural nail. Veneers are made of a thin layer of custom-made porcelain or composite material, which are then placed over the natural tooth.
However, unlike an acrylic nail, veneers are incredibly tough. Patients with dental veneers are still able to bite into carrots, eat fudge, or enjoy anything else they would normally. Dental veneers are completely sealed against the natural tooth, lasting for several years without regular maintenance.
While professional teeth whitening may have a few limitations, veneers are used to solve a variety of oral health issues. Bleaching is typically used only to lighten teeth, without the ability to change the position, size or shape of teeth.
Dental veneers do more than just make your smile look beautiful, they can also help fix for biting problems, help fill in gaps between teeth, or straighten overlapping teeth.
Dental veneers also allow you to keep much of your natural tooth, which is always ideal. Veneers are custom-made to cover just the front and biting surface of your teeth, which leaves the back area untouched.
Don't forget, if you are interested in any cosmetic dentistry solutions from Grandview Corners Dental, it is incredibly important to maintain proper oral health.
For more information on dental veneers, or to book an appointment at our Surrey dental clinic, contact us today!
Cosmetic dentistry has evolved rapidly over the last decade.   Makeover shows such as Ten Years Younger  and Style by Jury  have highlighted the amazing strides modern dentistry has made in the realm of smile design.
The exciting news is that you don't have to be chosen as a contestant on a makeover show to experience the outstanding benefits of advanced cosmetic dentistry!   In fact, there are smile design experts located in your very own Surrey, BC neighborhood.
Our caring team at Grandview Corners Dental & Wellness Centre has the specialized training needed to take your unique facial features into consideration and give you the gorgeous, natural-looking smile you've always wanted.
A beautiful smile is the trademark of a happy, successful, and confident person.   It can enhance your quality of life, empowering you with the self-esteem you need to fulfill your potential.   We love seeing our patients leave our office overjoyed by the new found confidence that comes along with a Grandview Corners Dental smile makeover.
When you come into our office for a cosmetic dentistry consultation, we take the time to create an individualized treatment plan which addresses all of your aesthetic needs.
Recent findings indicate that 99.7 percent of adults say an attractive smile is an important personal asset. Invest in your personal and professional success – contact us to book your smile consultation today!
Do you find you avoid smiling, or are embarrassed to show your teeth due to damage or severe discolouration? Do you wish you could have a Hollywood smile makeover that will give you the confidence to achieve your full potential?
If you answered yes, then Dental Veneers might be the right cosmetic dentistry solution for you!
Dental Veneers are extremely thin custom-shaped shells made of ceramic, porcelain or a composite material that can be bonded to your existing teeth to quickly and flawlessly eliminate imperfections. Veneers allow us to completely remodel the shape and style of your smile – we can brighten your teeth and cover discolorations, cracks, or uneven spacing in only a few appointments.
Our cosmetic dentistry experts have years of experience with Dental Veneers and the artistic ability to match your aspirations. At Grandview Corners Dental & Wellness Centre in Surrey, BC we'll take the time to discuss your needs and desires, and our artisan dentists will work with our expert dental labs to develop a set of custom Dental Veneers with the size, shape, and color that provide a natural look that complements your facial structure.
Patients receiving Dental Veneers will often tell us that they wished they had asked for them sooner – the burden of portraying unattractive defects or damage due to staining or injury is considerable and hard to put into words.   We understand, and are ready to give you the powerful lift and confidence boost that a beautiful natural smile brings.
Contact us today if you want to unlock your smile potential and think veneers might be the right cosmetic dentistry solution for you!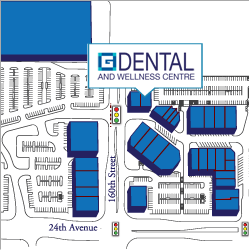 Click
here
to view a larger map.
SEARCH THE SITE
Book Your Checkup Today!