Cosmetic Solutions

Our appearance has a great impact on much of our social interactions. A brilliant, healthy looking smile can increase your self-confidence, pave the way to career advancement and leave a warm, lasting impression when meeting new people.
At Grandview Corners Dental we are concerned with more than just your teeth – we care about your self-confidence and emotional wellbeing. This is why we offer world class quality cosmetic procedures to enhance your appearance, enabling you to reach your full potential and enjoy all that life has to offer.
Whitening
Tea, coffee, smoking, red wine, and even strawberries are some of the factors that stain teeth and cause them to look yellow or grey over time. Many patients avoid addressing this problem because commercial "at-home" whitening strips or "take-home" trays can be inconvenient, ineffective, or uncomfortable.
At Grandview Corners Dental we provide safe, effective and fast professional "in-office" whitening that is perfect for patients who like to see immediate results. Our whitening treatments achieve a dramatically whiter smile in about an hour, saving your valuable time while improving one of your most valuable assets: your smile!
Contact us for more information about our in-office whitening today.
Veneers
Similar to how a beautiful mahogany veneer covers a piece of plywood, bonding a porcelain veneer to an imperfect tooth can transform its look completely.
Strong, durable, and stain-resistant, these thin porcelain shells are an instant cure for teeth that are oddly shaped, chipped, pitted, discoloured, crooked, or improperly sized or spaced. Veneers are a less invasive alternative to crowns because they require only a thin layer of the tooth to be removed and can be fitted with little or no anaesthetic.
Custom made to the exact size, shape, and colour you want, they can be used on one or more visible teeth to create a perfect, radiant smile: all in just two appointments!
Contact us to discuss whether veneers are the right choice for you.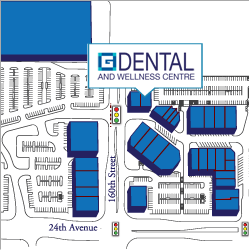 Click
here
to view a larger map.
SEARCH THE SITE
Book Your Checkup Today!