Advanced Restorations

We can be hard on our teeth – and diseased, chipped or even missing teeth are not only bothersome, but left untreated, can lead to further complications. Wear and tear is a constant reality, therefore we offer advanced restorations that can bring your mouth back to its healthiest state possible.
You'd be surprised at what a few restorative enhancements can do for your smile!
Composite (White) Fillings
Thanks to modern dental materials, silver fillings have become a thing of the past. Composites – also called white fillings or tooth-coloured fillings – are the ideal solution to get both the oral health function and aesthetic look that you want.
Composites provide protection and insulation from pain cause by hot or cold, and they are blended precisely to match the exact shade of your tooth. Replacing old silver fillings with these new, natural looking materials can take years off your smile by erasing evidence of past dental work.
Contact us for more information about Composite Fillings or to set up an appointment.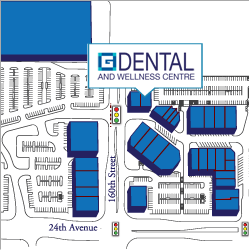 Click
here
to view a larger map.
SEARCH THE SITE
Book Your Checkup Today!