Browsing articles tagged with "Surrey Teeth Whitening Archives - Grandview Corners Dental & Wellness Centre"
Summer is in full swing and it's wedding season! Are you a bride, groom, or a member of the wedding party?   Then chances are you are going to want to look incredible on that special day and nothing can complete that polished look like a sparkling white smile care of your experts at Grandview Corners Dental & Wellness Centre.
Many of the beverages we all enjoy like coffee, tea, and red wine as well as foods like strawberries and cherries stain your teeth over time and leave your smile appearing discoloured and lackluster.   Our professional in office teeth whitening solutions are the fastest, most effective way to brighten your smile in time for that upcoming wedding.
Whitening is the trendy new activity for members of the bridal party to do together along with the traditional manicures, hair, make up, and dress shopping! Everyone wants to make his or her smile pop  for the special day with healthy and natural radiance.
Is your son, daughter, brother or sister getting married and you want to look great in all the family photos that will be passed on for generations?
Grandview Corners Dental's professional in office whitening solutions can dramatically whiten your smile in less than an hour!
Most of us are receiving a handful of wedding invitations in the mail this time of year. When you see your old friends, colleagues and family members at that upcoming wedding reception we can help you make a terrific and lasting impression.
Contact us to book an appointment with one of our expert dentists and we'll give you the white bright smile that communicates confidence and success!
Why not get Dad or your favorite Grad a lasting and practical gift that they'll use over twenty thousand times this year?  A Whiter and Brighter Smile!  Studies reveal that the average person smiles up to 62 times a day. That's 343 smiles each week and 22 568 smiles per year!  
For Dad
Your trusted expert dentists at Grandview Corners Dental have a great gift idea for the special man in your life this Father's Day.   Why not invest is Dad's health and happiness by getting him a Professional Whitening Treatment?  He'll smile ear to ear when you tell him you want him to look and feel great as an expression of your love for him!  
For Grads
Perhaps you are the proud mother, father, relative or grandparent of a young graduate this June. What better way to propel your loved one towards career success after graduation than with a dazzling white smile?   Plus, a brighter smile in those graduation photos will be a timeless reminder of the pride and joy that goes with hard work and achievement!
At Grandview Corners Dental we're proud to help you celebrate family and life accomplishments.  To book a Professional Whitening for that special person in your life this June, just contact our Surrey, BC office – we'll help you ensure they'll receive the gift that keeps them smiling all year long!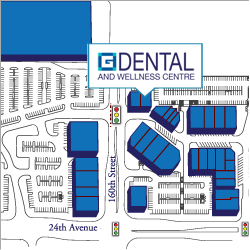 Click
here
to view a larger map.
SEARCH THE SITE
Book your checkup!