Browsing articles tagged with "family dental care Archives - Grandview Corners Dental & Wellness Centre"
Halloween is on the horizon and your health partners at Grandview Corners Dental & Wellness Centre want to help you protect your kids from something even scarier than zombies, ghosts and goblins this Halloween. There's something even more bone-chilling called tooth decay!
We all remember the joys of trick-or-treating, and coming home to unload our sugary spoils and eat candy until our tummies ached. Parents are in the scariest position at Halloween, predicting the cavities, temper tantrums and hyperactivity that will result from the copious candy intake by their youngsters.
The best way to avoid any of these truly tricky consequences in the aftermath of Halloween is not to consume any candy at all. However, we know that's highly unlikely and that's why your experts at Grandview Corners Dental have created a Halloween candy guide to help protect your kids from tooth decay and thereby ensure their optimal oral health for life.
Below is a listing from most harmful to the safest treats your kids should be choosing from their trick-or-treat bag:
Sour Power – Sour candies are the absolute worst in that studies have revealed that the acids in sour candies are so destructive because they dissolve enamel on contact!
Hardly Harmless – Hard candy needs to be sucked on for an extended period of time and very chewy candies are harmful in that they get stuck between the teeth. Both hard and chewy candy allow bacteria to wreak havoc on your child's teeth for a much longer period of time.
Resist Raisins – Don't be fooled by their natural derivative. Raisins easily damage dental work because they are very sticky and do not mix well with fillings, braces or retainers.
Candy Bars Get Four Stars – While we can't say candy bars are good for your oral health, they are less harmful because they are eaten quickly allowing less time for the sugar to damage with acid.
Dissolve Your Worry – Powder candy is fairly safe as the sugar dissolves quickly and makes little contact with the teeth.
Eat Two or Three if They're Sugar Free – As obvious as it seems, sugar-free candy is the most highly recommended Halloween treat for your children's teeth. You can even prevent cavities by chewing sugar free gum! Sugar free gum promotes increased saliva which neutralizes harmful bacteria.
If your little monsters will be in need a routine dental cleaning after Halloween give us a call and book an appointment today!
Sometimes due to fear, laziness or anxiety, patients tend to forget  about booking a regular dental cleaning or checkup at their local, friendly dental clinic. In order to encourage you to schedule your next checkup and cleaning at Grandview Corners Dental now, here's a few good reasons why regular dental visits are so important:
"Patients who visit the dentist regularly are much less likely to need major procedures such as root canals, gum grafts and tooth extraction."
1. Avoid Painful Procedures: Patients who visit the dentist regularly are much less likely to need major procedures such as root canals, gum grafts and tooth extraction. This means that patients are saving money, avoiding painful dental procedures and staying healthy!
2. Beautiful Smiles: A good looking smile starts with healthy teeth, and regular checkups and cleanings at Grandview Corners Dental will keep you looking your best. A professional cleaning can also help remove stains on your teeth, giving them a healthy shine that will impress everyone you meet.
3. Detect oral cancer early: One of the deadliest cancers, but easiest to diagnose, is oral cancer. At our Surrey dental clinic, we have invested in the VELscope exam system, which works to detect cancer at the earliest stages.
4. Good example for your kids: If you have children who look up to you, make sure you practice good oral hygiene habits. Make dental checkups a priority in life, allowing for a future full of healthy smiles.
5. Reduce gum disease: Many adults will eventually get some type of periodontal disease, a leading cause of tooth loss. Luckily, gum disease can easily be treated or reversed, but only if your oral health is checked closely by the team at Grandview Corners Dental.
For more information on maintaining good oral health, or to book a dental cleaning and checkup, contact us today!
Our Hours
-

Admin only

-

-

-

Admin only

-

-

Closed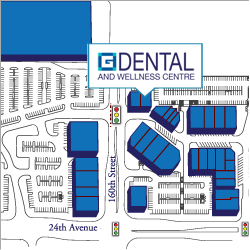 Click
here
to view a larger map.
SEARCH THE SITE
It's safe to visit us!